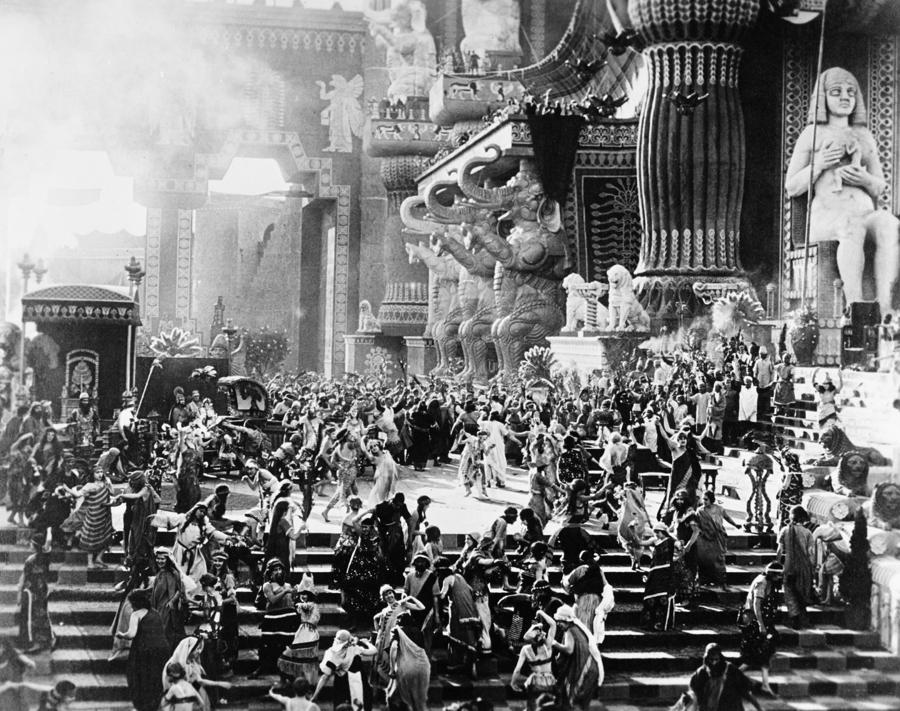 Mussolini built his own Hollywood in the 1930s to spread his Fascist message. Today he would just tweet.
Artifice used to be more real in a sense when the movie industry was in the business of "nation-building," when sets were an elaborate, eye-popping selling point and simulacra was not sacred but esteemed, since there was not yet the technical acumen to create any sort of profound special effects. "A cast of thousands" was the un-humble brag used to peddle Cecil B. DeMille's 1956 remake of his own epic, The Ten Commandments, and there was another "cast" of a similar size behind the scenes making the Nile run and bushes burn.
Then the collapse of the studio system hit in the 1960s, and moguls lost their religion, mostly downsizing scale and Labor. For a while, relatively cheap, personal productions by Hoppers and Fondas and Coppolas and Scorseses ruled the day. Eventually, the studios were ready dream big again, and in 1975, the robot-shark technology of Jaws captured the summer in its animatronic maw. Two years later, Star Wars relied heavily on Industrial Light & Magic to realize its vision. It was still a long way to the technology behind today's tentpoles, but the rise of the machines and the diminishment of human craft began in Hollywood–as it did in a big-picture way all across America–decades ago. The Herculean returned, but Hercules was now a bit player.
From "True Fakes on Location," Tom Carson's excellent Baffler article about auteurs and architecture:
2016 marks Intolerance's centenary, and that shouldn't be a milestone only to high-minded fans of cinema's artistic dawn. Because [D.W.] Griffith predicted everything in movies, it's also a milestone for any garden-variety filmgoer who's ever been wowed by coarse and costly Hollywood spectacle. I suspect only prigs are completely immune to the delights of whole foreign environments—whether antique, exotically international, familiar but exaggerated, or just plain fantastical—that have been erected, populated, and photographed for no better reason than to knock our socks off. For my money, Intolerance is where fake movie architecture began its complicated dance with the real thing, affecting how audiences perceive the past, reconfigure their present, and anticipate the future.

The ambition of Intolerance did have precursors. Griffith himself had built a biblical town in the San Fernando Valley for Judith of Bethulia two years earlier. The imported Italian period epicsQuo Vadis? (1913) and Cabiria (1914) had stimulated both his ambition and his envy. But in scale and pull-out-the-stops grandeur, nothing like Belshazzar's Court had ever been seen before—except by, well, Belshazzar and some two hundred thousand other lucky but very dead Babylonians in the sixth century BCE. Even Griffith's own 1915 epic The Birth of a Nation hadn't required particularly extravagant exterior sets, however unprecedented in scope (and vicious in sentiment—Intolerance was conceived in part to rebut its critics) his love song to the Ku Klux Klan had otherwise been.

One reason Intolerance's Babylon still looks stunning is that the age of computer-generated imagery has all but ruined our capacity to experience Hollywood's imagineering as something nonetheless rooted in the material world.•
Tags: D.W. Griffith, Tom Carson