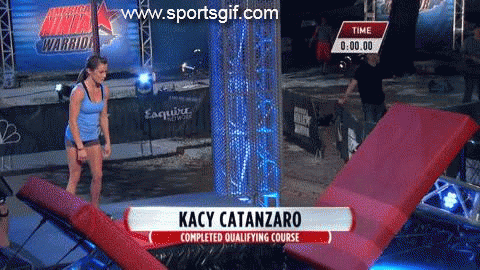 If someone had told you 20 years ago that TV was to soon be dominated by Real Housewives, Biggest Losers and Kardashians, that network sitcoms and police procedurals would become secondary not only to great cable programs but also cheap reality shows, you might have thought they were nuts. Who would trade Jennifer Aniston for Kris Jenner? But the center did not hold, the barbarians stormed the gates, and now the sideshow of Bachelors and Bachelorettes has moved to the front of the aisle. In a decentralized medium, the financials no longer made sense for expensive offerings, so cheap content became king.
In an excellent Wall Street Journal article, Jason Gay wonders if multibillion-dollar professional sports could be destabilized by American Ninja Warrior and the like. You know, junk sports that serve to post-millennials' minds (and smartphones) thrilling pseudo-athletics in which spectacle is more important than winning and losing. I have no doubt that in the coming decades video games and virtual reality and gadgets will change not only the way we watch competitions but the competitions themselves, but could they be surprisingly deep alterations?
It all depends on technological shifts, something beyond the control of sports. Baseball has been richly rewarded in recent years with outsize regional cable contracts because Fox Sports wanted to challenge ESPN, and MLB could offer a huge slate of live, family friendly content. But MLB and the other major sports leagues are a couple of new tech tools they didn't anticipate from being back on their heels. Money and history are on the side of MLB, NBA, NFL and NHL, but that's been the case with many supposedly unsinkable entities. I would bet against some American Gladiators knockoff KO-ing big-time team sports, but I also though Star Search a silly afterthought just a short time before American Idol ruled the airwaves.
Gay's opening:
Last summer, on a family vacation in a house with 10 very loud children, I attempted to watch a baseball game on the only available television set. It did not go well. My nieces and nephews acted like I was forcing them to watch a process hearing in the state legislature. They groaned and booed. They rolled their eyes. They dropped to the floor and pretended to sleep.

Frantic to please, I turned the channel, and happened upon a reality show I'd never seen before: a wacky obstacle-course event called "American Ninja Warrior." Situated on an outdoor stage bathed in red, white and blue lights, it featured sinewy men and women of all ages, jumping and scurrying from platforms to ropes to monkey bars, plunging into water traps when they missed.

The room erupted. It was as if Taylor Swift and Justin Bieber had just shown up with free pizza and iPhones. It turned out my loud, young in-laws all loved "American Ninja Warrior." They crammed around the TV, rapt.

The scene made me feel like an out-of-touch geezer—how had I missed this phenomenon?—and also made me think about sports, and their future.•
Tags: Jason Gay