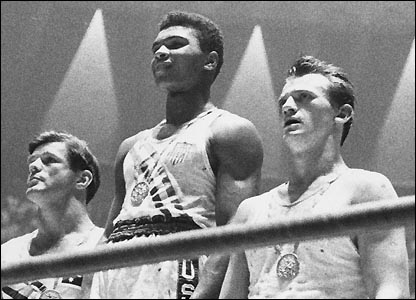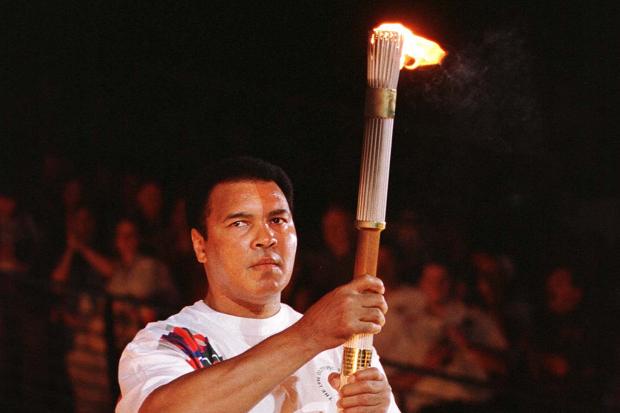 Blessed with peerless gifts for gab and jab, Muhammad Ali, a lightly educated son of Louisville, became the most significant athlete in American history and one of the nation's key figures of the 20th century. He wasn't always right but in the big picture, he was firmly on the right side of history.
Ali would have been a master showman in any age, a Barnum of boxing, as he'd patterned his speech on professional wrestling promos, hoping to encourage people to pay to see him lose. He didn't enter the ring at any time, though, but during the age when the Civil Rights Movement was to have its biggest moment and the Vietnam War was to call his number. He quickly became politicized, converted to Muslim, joined the first fight and refused the second, surrendering his championship and financial security for his principles.
His titanic bouts with Joe Frazier and George Foreman, which would cement him as the greatest heavyweight ever, occurred after this period of exile ended, but it was during this time he became "the Greatest." 
The opening of Robert Lipsyte's excellent 1964 New York Times report on Ali's first triumph over Sonny Liston is followed by links to some of the Afflictor Ali posts from over the years.
From Lipsyte:
MIAMI BEACH – Incredibly, the loud-mouthed, bragging, insulting youngster had been telling the truth all along. Cassius Clay won the heavyweight title tonight when a bleeding Sonny Liston, his left shoulder injured, was unable to answer the bell for the seventh round. Immediately after he had been announced as the new heavyweight champion of the world, Clay yelled to the newsmen covering the fight: "Eat your words." Only 3 of 46 sports writers covering the fight had picked him to win.

A crowd of 8,297, on its feet through the early rounds at Convention Hall, sat stunned during the one-minute rest period between the sixth and seventh rounds. Only Clay seemed to know what had happened: he threw up his hands and danced a little jig in the center of the ring. The victory was scored as a technical knockout in the seventh round, one round less than Clay had predicted. Liston had seemingly injured the shoulder in the first round while swinging at and missing the elusive 22-year-old.

The fight was Clay's from the start. The tall, swift youngster, his hands carelessly low, backed away from Liston's jabs, circled around Liston's dangerous left hook and opened a nasty gash under Liston's left eye. From the beginning, it was hard to believe. All those interminable refrains of "float like a butterfly, sting like a bee," had been more than foolish songs. The kid was floating. He leaned back from Liston's jabs and hooks, backed into the ropes, then spun out and away. He moved clockwise around Liston, taunting that terrible left hook, his hands still low. Then he stung, late in the first round, sticking his left in Liston's face and following with a quick barrage to Liston's head. They continued for long seconds after the bell, unable to hear the inadequate ring above the roar of the crowd.•
---
In 1971, Muhammad Ali explained when he thought there'd be an African-American President. https://t.co/EvfoBME3bz pic.twitter.com/dogwn9h1QR

— Afflictor.com (@Afflictort) June 5, 2016
Pete Hamill called the first Ali-Frazier "perhaps the greatest night in the history of NYC." https://t.co/4Rk7keAH1J pic.twitter.com/Hr3BvrOS4X

— Afflictor.com (@Afflictort) June 4, 2016
In 1970, Muhammad Ali and Rocky Marciano squared off in a computer "fight." https://t.co/0NiE6m403K pic.twitter.com/UdMmeTYJR6

— Afflictor.com (@Afflictort) June 4, 2016
Muhammad Ali and polarizing comedian Stepin Fetchit hammed it up in a 1970 documentary. https://t.co/DVw9I6yPeapic.twitter.com/V2oxHguLZX

When banned from boxing, Muhammad Ali hit the speed bag with Clint Eastwood for David Frost. https://t.co/rw9aABj0ql pic.twitter.com/uVKUhD2Umw

— Afflictor.com (@Afflictort) June 4, 2016
In '65, Dempsey, Marciano, Howard Cosell, Jimmy Cannon & W.C. Heinz discussed Ali-Liston II. https://t.co/QkcnOm6oN1 pic.twitter.com/7F6QQYjTyt

— Afflictor.com (@Afflictort) June 5, 2016
Muhammad Ali & Joe Louis seldom had a good word for one another, even when working together. https://t.co/oXlVIlm1JA pic.twitter.com/RFMs3Qdxbp

— Afflictor.com (@Afflictort) June 5, 2016
In 1969, Muhammad Ali and Joe Namath had a spat on the latter's short-lived talk show. https://t.co/8Or3J0Bda5 pic.twitter.com/SIgatly0OM

— Afflictor.com (@Afflictort) June 5, 2016
In 1971, Howard Cosell spoke to Muhammad Ali and Wilt Chamberlain about their planned bout. https://t.co/FFxO3WZ6IP pic.twitter.com/rD1AnzhMWe

— Afflictor.com (@Afflictort) June 4, 2016
In '65, Muhammad Ali talked his estrangement from Malcolm X just before the latter's murder. https://t.co/pP5qT54JFT pic.twitter.com/AqgaQ37csX

— Afflictor.com (@Afflictort) June 4, 2016
In 1970, during his Vietnam Era walkabout, Muhammad Ali was interviewed by Sammy Davis Jr. https://t.co/W0mJSQBhpx pic.twitter.com/b0XCAmLQLa

— Afflictor.com (@Afflictort) June 4, 2016
In 1976, Muhammad Ali and "Classy" Freddie Blassie visited the "Tonight Show" together. https://t.co/MknLPwfEP7 pic.twitter.com/zcUTYSDchr

— Afflictor.com (@Afflictort) June 5, 2016
In 1976, Muhammad Ali was interviewed by a panel of journalists on "Face the Nation." https://t.co/SfnHniH0Kv pic.twitter.com/nrSgDqgFwz

— Afflictor.com (@Afflictort) June 4, 2016