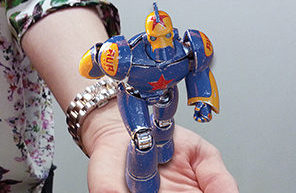 Kevin Kelly believes he's seen the future of Virtual Reality, and it's name is Magic Leap, a Florida-based firm which awed him when he visited the company's campus. An excerpt from early in his Wired article:
In this prototype headset, created by the much speculated about, ultrasecretive company called Magic Leap, this alien drone certainly does seem to be transported to this office in Florida—and its reality is stronger than I thought possible.

I saw other things with these magical goggles. I saw human-sized robots walk through the actual walls of the room. I could shoot them with power blasts from a prop gun I really held in my hands. I watched miniature humans wrestle each other on a real tabletop, almost like a Star Wars holographic chess game. These tiny people were obviously not real, despite their photographic realism, but they were really present—in a way that didn't seem to reside in my eyes alone; I almost felt their presence.•
At first, such tools tool may be toys. Starbreeze Studios announced plans to open a Los Angeles VR arcade. It would be a chance to introduce the technology to the masses that so far have only read the glowing reports. From the press release:
Starbreeze AB, an independent creator, publisher and distributor of high quality entertainment products, today at VRLA Winter Expo announced its intention to establish a VR arcade venue in Los Angeles, named Project StarCade. Aiming to make premium VR experiences accessible for the masses, Starbreeze will create a StarVR powered arcade hall, where VR enthusiasts and novices alike are welcome to experience the exciting technology in an immersive setting.

"We continue to iterate the fact that VR really needs to be experienced in person to fully be able to appreciate the phenomenon, and why not have your first experience in a real premium setting in our StarVR headset? We've managed to secure a prime location where people are welcome to step into our StarCade and enjoy our OVERKILL's The Walking Dead VR experience." said Starbreeze CTO Emmanuel Marquez. He continued, "We're developing our own StarCade catalogue of experiences, but we're open to any content. We will invite developers to join us and give them the opportunity to put their content in our StarCade. We as an industry continuously need to educate ourselves to make VR truly successful, and this is just the first step in our planning to do so."
Of course, more practical applications will emerge, from education to vocational training to even therapy. Whenever I read something about VR, I immediately wonder what Jacob L. Moreno, the student of Freud who invented the psychodrama (and hypnodrama) would have done with the tool. It's definitely necessary to be wary of how living in the virtual could impact our behavior in the actual, because no matter how much we've gotten into traditional films, TV shows and paintings, VR is a further immersion and will affect our brains differently. But I assume some patients (e.g., soldiers with PTSD) could be aided by such technology. 
Below are two videos of Moreno in action at psychodrama theaters (the first in 1964, the second in 1948), places where individuals could act out scenarios from their lives within a group dynamic, hopefully gaining insight into their behavior, especially the self-destructive kind.
Tags: Jacob L. Moreno, Kevin Kelly