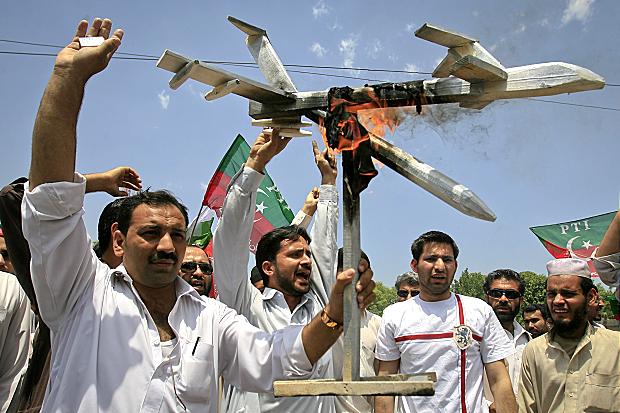 You would understandably disagree if you or yours met with the business end of a drone, but these modern weapons aren't, militarily speaking, the worst thing. 
Worse is a ground-battle quagmire that stretches on seemingly endlessly, until, as in Iraq, the dead are so numerous you can't make an exact accounting of them. Even though it's strategically far from perfect as well as morally dubious, the U.S. drone offensive against ISIS, Al Qaida, et al., hasn't been nearly as destructive. The catch is that while selective strikes are responsible for far less collateral damage than pre–push-button offensives, traditional wars always offered us an out. Operating less-accurate arms inside the fog of war, we could tell ourselves that things just happened. No one meant to inflict so much carnage–that's just the nature of combat. It was true to some extent, though this escape clause was applied liberally, eliding some of the horror of the whole business, even if it was only a psychological trick.
Precision has, more or less, arrived with drones, and that means fewer excuses along with fewer deaths. We definitively pick and choose who lives and dies and execute those decisions. Drones, then, aren't an impersonal way to conduct war despite the remoteness of the soldiers. In Thomas Nagel's London Review of Books piece "Really Good At Killing," which meditates on Scott Shane's Objective Troy: A Terrorist, a President and the Rise of the Drone, the philosopher addresses this thorny technological development.
An excerpt:
The 2010 United Nations report on targeted killings by Philip Alston says of drones that 'because operators are based thousands of miles away from the battlefield, and undertake operations entirely through computer screens and remote audio-feed, there is a risk of developing a "Playstation" mentality to killing.' But Shane contends credibly that this is not borne out by the experience of those who have done it, and who report an acute and disturbing awareness of the individual humanity of those they observe – not only the non-combatants nearby but also their intended targets. 'The psychological toll on drone pilots and sensor operators was, paradoxically, far greater than on those who flew traditional fighters and bombers,' he says.

The personal character of this kind of killing goes all the way to the top. Obama 'did not trust the agencies carrying out the strikes to grade their own work. He felt it was his responsibility to invest the time – hours each week – to keep abreast of the operations and often to exercise his own judgment about what was justified and what was too risky.' 'He was the ultimate arbiter of a "nominations" process to designate terrorists for kill or capture, and there were virtually no captures by American agencies … When the CIA sent word that there was a rare opportunity for a drone strike on a top terrorist – but that his family was with him – it was the president who had reserved to himself the final moral calculation.' 'On several occasions, he told aides, with chagrin, that as president he had discovered an unexpected talent. "It turns out," he said, "that I'm really good at killing people."'

The president as killer is a chilling new face of the role of commander-in-chief. I suspect that it is the personal, individualised nature of drone warfare that many people find so repellent. It is easier to be resigned to the slaughter of faceless multitudes by conventional missiles, bombs and artillery, with the inevitable attendant collateral damage, in pursuit of legitimate military objectives. War is hell, as we all know. But when the president puts someone on a kill list to be taken out by a precise drone strike, it creates the illusory sense of a more direct responsibility for that death than for the other kind. It feels like an execution, though it is just retail warfare, and the responsibility, individual and collective, is equally great in both cases.

Does it make a moral difference that this kind of killing exposes the killers to no physical risk? Is it a condition on the acceptability of warfare that those who kill should put their lives on the line?•
Tags: Scott Shane, Thomas Nagel