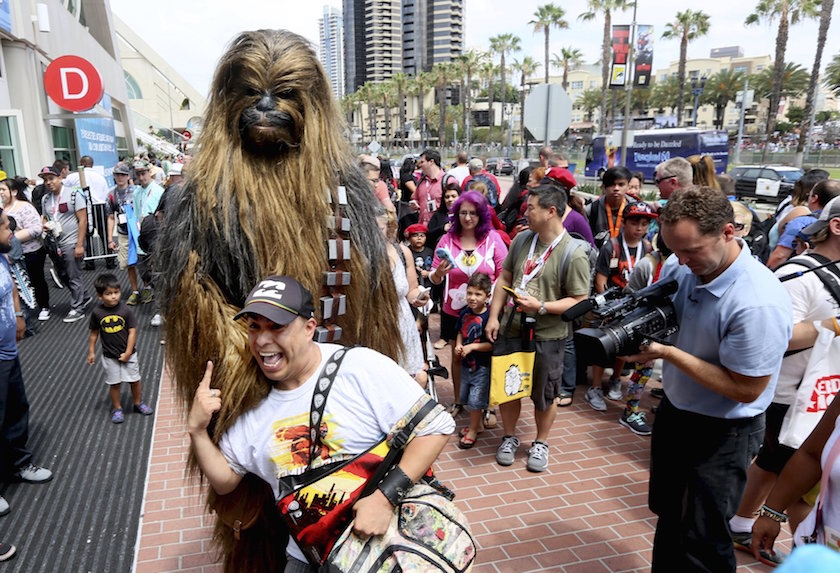 Life to me is just about having a little fun and doing some good things for others before time runs out–and that's what it's doing, rapidly. So why would our comic-book culture depress me so? Clearly it's fun for many people. It isn't just because I'm not personally interested in the form. That's true of many things that don't make me sad.
Overall, I'm glad the "barbarians" have stormed the gates, pleased technology has allowed everyone in the audience to essentially be part of the show, as Glenn Gould long ago predicted it would. The economics aren't good for many professionals, but I still vote for the mob. I have no problem with Kris Jenner being the new Joe Jackson and a big ass being the new moonwalk. It's not nothing, just something different.
Still, sadness.
I guess what troubles me is that it's all centered on consumerism. It's not only about owning a product but becoming one. That's true of people creating free content from their personal information for Facebook and citizens being considered brands and fans donning costumes of their favorite toys at conventions. We've run out of things to eat so now we're eating ourselves. That's what our mix of democracy and capitalism has led us to.
A.O. Scott of the New York Times went to Comic-Con in San Diego and saw himself when gawking at X-Men, Yodas and zombies. His resulting article is a brilliant summation of so many things in the culture, even if he's not quite as somber as I am about this new normal. An excerpt:
For a long weekend in July, this city a few hours down the freeway from Hollywood and Disneyland becomes a pilgrimage site for something like 130,000 worshipers. It's both ordeal and ecstasy, and the secular observer is in no real position to judge. You arrive as an ethnographer, evolve into a participant observer and start to feel like a convert, an addict to what is surely the modern-day opiate of the masses.

What are the doctrines and canons of this faith? In some ways, they aren't so mysterious. The Comic-Con pilgrims, with their homemade costumes and branded bags of merchandise, represent the fundamentalist wing of the ecumenical creed of fandom. Almost everyone in the world outside falls somewhere on the spectrum of observance. We go to movies, we watch television, we build things out of Lego. I went to Comic-Con thinking I was going to study the folkways of an exotic tribe. I didn't suspect I would find myself.

Literally where I found myself, for most of the four days, was in line. It's the shared experience that unites the diverse subcultures, and the most available topic of conversation is just how long and how many those lines are. You could either figure out which line you wanted to join — would you rather be attacked by zombies or score swag from "The Peanuts Movie"? Cop an "exclusive" Marvel toy or a drawn-to-order sketch from the indie animator Bill Plympton? — or follow the herd. "What's this line for?" is a question I heard most often from people who were already a dozen or more bodies into it.

In other eras and societies — the Great Depression, the Soviet Union — long lines signify scarcity or oppression. In the Bizarro World that is 21st-century America, it's the opposite: Long lines are signs of abundance and hedonism. Much can be learned about a civilization from studying its queuing habits, and Comic-Con surpasses even the Disney theme parks in the sophistication of its crowd management and the variety of its arrangements.•
Tags: A.O. Scott