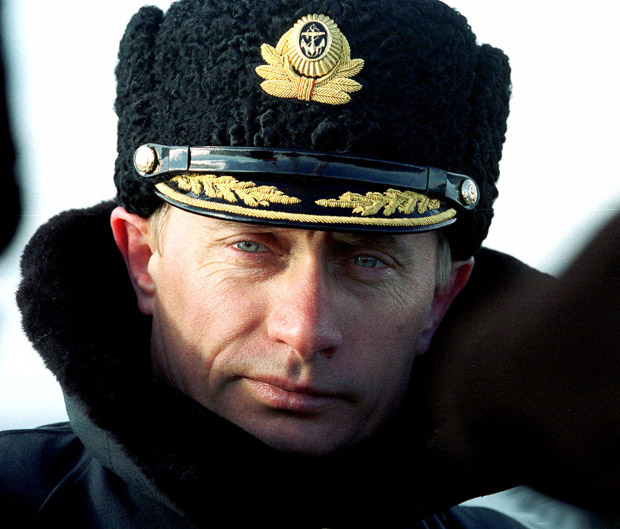 Vladimir Putin is a Western capitalist by another name no matter the pose, but unlike of the Cold War Soviet Union, which was ideologically opposed to the United States but usually more glacier than inferno, he's a reactionary given to ad-hoc governance–and that's dangerous. Paul Sonne, the Moscow correspondent for the Wall Street Journal, gets to the heart of the matter in a very lucid AMA at Reddit. A few exchanges follow.
______________________________
Question:
I think that the question that is on everyone's mind is: How close are we to a full scale armed conflict that has Russia on one side and the EU/US on the other?
Paul Sonne:
Very good question. I don't think we're there yet. Though the risk is real. It has become a much more pressing question amid the debate over whether the US should or should not provide lethal arms to Ukraine (so far Washington has said it has provided only non-lethal aid). Those who are against providing weapons have warned of the possibility of sort of sleepwalking into a full-scale confrontation with Russia, because if the weapons do not serve as a deterrent, and Russia escalates in response by providing equally powerful weaponry to the rebels, then what does the US/EU do? The good news is that I do think EU and US leaders are aware of this risk, which is probably why we have yet to see any weapons deliveries.
______________________________
Question:
How noticeable an effect are the Western sanctions having? Are they affecting everyday life for the average Russian?
Paul Sonne:
Though the main reason Russia's currency has plummeted is the plunge in oil prices, I think it's fair to say that the sanctions were a contributing factor – and most every Russian is certainly feeling the effects of the ruble's stark devaluation. Russia's response to the sanctions (banning an array of foodstuffs from the EU and the US) has been felt in supermarkets. Some higher-end stuff (such as Italian mozzarella) is now unavailable, but that affects only a smaller slice of the population. The broader population has felt a rise in food prices more generally.
______________________________
Question:
What is your impression of the Russian people and their perception of the crisis in Ukraine? Do you find that many are heavily influenced by Russian State Media?
Paul Sonne:
Yes. Polls repeatedly show that Russians are indeed heavily influenced by state television. You can find an article on one of those polls here.
The effects are palpable. For example, even though most of the rest of the world believes Russia-backed rebels downed MH17, polls show that the bulk of Russians believe the airliner was downed by Ukrainian forces – something Russian state television has been alleging since minutes after the crash.
______________________________
Question:
in your opinion, is another cold war or worse likely in the near future?
Paul Sonne:
We're already seeing a level of confrontation between Russia and Europe/US that is reminiscent of the Cold War. But we're not going to see a return of the same thing, because the world is different, more globalized and connected. One of the key differences is that Russia doesn't have an explicit opposing ideology in the way that the Soviet Union did during the Cold War. Much of the Cold War was directed by the concept that democracy had to triumph over communism – it was not just a geopolitical confrontation but also a battle over how countries and the world should be run. Though the Kremlin of late has tried to emphasize how much Russia's ideology differs from European liberalism, it's not a full-scale articulation of an alternative system. What we see in Russia today is more a modified version of what you see in Europe or the US, not a completely different way of organizing society as you had in the Soviet era.•
Tags: Paul Sonne, Vladimir Putin