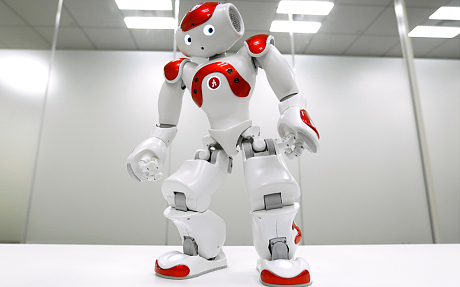 Japan's graying, thinning population knows a scarcity of labor, a problem likely to grow worse. A solution: Open up what's a very homogenous country to immigrants. But Japan's chosen not to staff up with foreign humans but with foreigners to the species, setting up hologram desk clerks and robot bank tellers. If this AI, the Weak kind but impressive nonetheless, works there, wouldn't such machines also be employed in places where humans are still readily looking to land a position? From Julian Ryall at the Telegraph:
Standing less than 23 inches tall and with only three digits on hands that are too big for his body, Nao is an unusual appointment at Japan's biggest bank.
Officials of Mitsubishi UFJ Financial Group Inc believe, however, that this humanoid robot is likely to be an important addition to its operations.

Unveiling Nao in Tokyo on Monday, officials at the bank pointed out that the android is able to speak no fewer than 19 languages and can determine customers' emotions from their facial expressions.

Nao is still undergoing some minor adjustments, officials said, but the bank anticipates that several of the robots will be meeting and greeting customers in branches from April.

Designed by Aldebaran Robotics SA, a Paris-based subsidiary of SoftBank Corp, Nao gave a demonstration of his skills, greeting a customer with a breezy "Hello and welcome" in fluent English.
"I can tell you about money exchange, ATMs, opening a bank account or overseas remittance," the android added. "Which one would you like?"

Japanese companies are investing heavily in robots, both as a solution to the nation's ageing and shrinking population and as a growing business opportunity.•
_____________________________
The future of computerized banking, as envisioned in 1969:
Tags: Julian Ryall