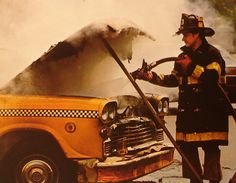 I put up a post last month about taxi commissions needing to compete with Uber at its own game, creating an app that will allow medallion owners and their drivers to offer customers the best of ridesharing (smartphone hailing, digital payments) without the negative (surge pricing, unethical business and labor practices), and it seems that NYC and Chicago were already thinking along those lines. Now it will come down to properly executing the system. From Mike Isaac at the New York Times:
"If you can't beat them, join them.
Regulators in Chicago have approved a plan to create one or more applications that would allow users to hail taxis from any operators in the city, using a smartphone. In New York, a City Council member proposed a similar app on Monday that would let residents 'e-hail' any of the 20,000 cabs that circulate in the city on a daily basis.
It is a new tack for officials in the two cities, a reaction to the surging use of hail-a-ride apps like Uber and Lyft.
Regulators in New York have not yet voted on the bill on the e-hail app, which was first proposed by Benjamin Kallos, a councilman who represents the Upper East Side and Roosevelt Island.
In Chicago, the plan to create such apps is part of the so-called Taxi Driver Fairness Reforms package, a plan backed by a taxi union and City Council members that would update regulations around taxi cab lease rates and violations like traffic tickets, among others. The city is expected to solicit third-party application developers to build the official app or set of apps. The City Council gave no further details on its selection criteria, nor did it give information on how the initiative would be financed.
'These reforms represent what is necessary to further modernize this growing industry,' Rahm Emanuel, Chicago's mayor, said in a statement."
Tags: Mike Isaac