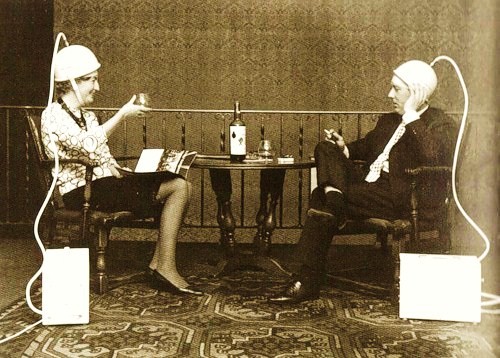 The Internet of Things is wonderful–and terrible. How valuable will be the aggregated information when all objects report back to the cloud and the network effect takes hold, and how impossible it will be to opt out, how unfortunately that information will sometimes be used. If we go from the ten million sensors currently connected to the Internet to 100 trillion by 2030 as theorist Jeremy Rifkin predicts, the next digital revolution will have taken place, with all the good and bad that entails. The opening of Sue Halpern's New York Review of Books analysis of a slew of new titles about how tomorrow may find us all tethered:
"Every day a piece of computer code is sent to me by e-mail from a website to which I subscribe called IFTTT. Those letters stand for the phrase 'if this then that,' and the code is in the form of a 'recipe' that has the power to animate it. Recently, for instance, I chose to enable an IFTTT recipe that read, 'if the temperature in my house falls below 45 degrees Fahrenheit, then send me a text message.' It's a simple command that heralds a significant change in how we will be living our lives when much of the material world is connected—like my thermostat—to the Internet.
It is already possible to buy Internet-enabled light bulbs that turn on when your car signals your home that you are a certain distance away and coffeemakers that sync to the alarm on your phone, as well as WiFi washer-dryers that know you are away and periodically fluff your clothes until you return, and Internet-connected slow cookers, vacuums, and refrigerators. 'Check the morning weather, browse the web for recipes, explore your social networks or leave notes for your family—all from the refrigerator door,' reads the ad for one.
Welcome to the beginning of what is being touted as the Internet's next wave by technologists, investment bankers, research organizations, and the companies that stand to rake in some of an estimated $14.4 trillion by 2022—what they call the Internet of Things (IoT). Cisco Systems, which is one of those companies, and whose CEO came up with that multitrillion-dollar figure, takes it a step further and calls this wave 'the Internet of Everything,' which is both aspirational and telling. The writer and social thinker Jeremy Rifkin, whose consulting firm is working with businesses and governments to hurry this new wave along, describes it like this:
The Internet of Things will connect every thing with everyone in an integrated global network. People, machines, natural resources, production lines, logistics networks, consumption habits, recycling flows, and virtually every other aspect of economic and social life will be linked via sensors and software to the IoT platform, continually feeding Big Data to every node—businesses, homes, vehicles—moment to moment, in real time. Big Data, in turn, will be processed with advanced analytics, transformed into predictive algorithms, and programmed into automated systems to improve thermodynamic efficiencies, dramatically increase productivity, and reduce the marginal cost of producing and delivering a full range of goods and services to near zero across the entire economy.
In Rifkin's estimation, all this connectivity will bring on the 'Third Industrial Revolution,' poised as he believes it is to not merely redefine our relationship to machines and their relationship to one another, but to overtake and overthrow capitalism once the efficiencies of the Internet of Things undermine the market system, dropping the cost of producing goods to, basically, nothing. His recent book, The Zero Marginal Cost Society: The Internet of Things, the Collaborative Commons, and the Eclipse of Capitalism, is a paean to this coming epoch.
It is also deeply wishful, as many prospective arguments are, even when they start from fact."
Tags: Jeremy Rifkin, Sue Halpern