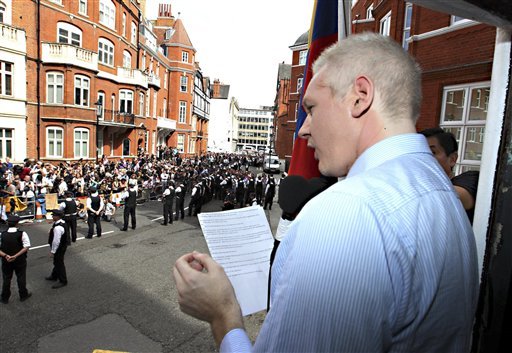 Just because Julian Assange is a megalomaniacal creepbag doesn't mean he's wrong about everything. He's most certainly not. In a Newsweek excerpt from his book When Google Met Wikileaks, Assange recounts his 2011 meeting with that company's Executive Chairman Eric Schmidt and Ideas Director Jared Cohen, and his subsequent realization that the search giant enjoys a cozy relationship with the inner sanctums of D.C.'s biggest power brokers, even the White House. I don't doubt that Google, the de facto Bell Labs of our time and likely in possession of more information than any other entity in the history of Earth, is indeed ensconced in politics (and vice versa), though I would caution against thinking the Silicon Valley behemoth is some sort of shadow government. In his black-and-white way of viewing the world, Assange needs his foes to be as massive as his ego, and he wants to see Google as an indomitable force shaping our world. While it has some influence–and I wish corporations didn't have any entrée into such quarters–I think Assange is overestimating the company's importance as a world-maker to inflate his own. In fact, if Google is mainly a search company a decade or two from now, it won't have much sway at all–it'll probably be in a lot of trouble. A passage about Assange's research into Cohen's role in geopolitics:
"Looking for something more concrete, I began to search in WikiLeaks' archive for information on Cohen. State Department cables released as part of Cablegate reveal that Cohen had been in Afghanistan in 2009, trying to convince the four major Afghan mobile phone companies to move their antennas onto U.S. military bases. In Lebanon, he quietly worked to establish an intellectual and clerical rival to Hezbollah, the 'Higher Shia League.' And in London he offered Bollywood movie executives funds to insert anti-extremist content into their films, and promised to connect them to related networks in Hollywood.
Three days after he visited me at Ellingham Hall, Jared Cohen flew to Ireland to direct the 'Save Summit,' an event co-sponsored by Google Ideas and the Council on Foreign Relations. Gathering former inner-city gang members, right-wing militants, violent nationalists and 'religious extremists' from all over the world together in one place, the event aimed to workshop technological solutions to the problem of 'violent extremism.' What could go wrong?
Cohen's world seems to be one event like this after another: endless soirees for the cross-fertilization of influence between elites and their vassals, under the pious rubric of 'civil society.' The received wisdom in advanced capitalist societies is that there still exists an organic 'civil society sector' in which institutions form autonomously and come together to manifest the interests and will of citizens. The fable has it that the boundaries of this sector are respected by actors from government and the 'private sector,' leaving a safe space for NGOs and nonprofits to advocate for things like human rights, free speech and accountable government.
This sounds like a great idea. But if it was ever true, it has not been for decades. Since at least the 1970s, authentic actors like unions and churches have folded under a sustained assault by free-market statism, transforming 'civil society' into a buyer's market for political factions and corporate interests looking to exert influence at arm's length. The last forty years have seen a huge proliferation of think tanks and political NGOs whose purpose, beneath all the verbiage, is to execute political agendas by proxy."
Tags: Eric Schmidt, Jared Cohen, Julian Assange