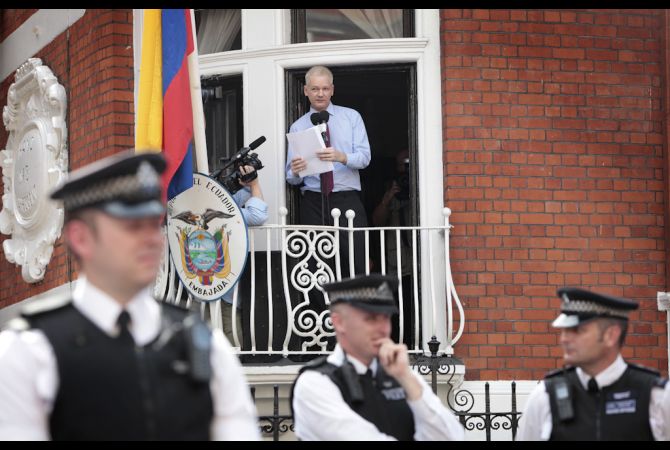 Julian Assange is an asshole, but so are a lot of useful people. Whistleblowers are vital in a free society, and I certainly don't expect them to be perfect, but Assange is a messenger of such dubious character that it pollutes his message.
In today's Gawker chat, Assange chose to not answer one of the best questions–"Given the collapse of your support since avoiding rape charges for several years, don't you think that Wikileaks, as an organisation, would have been better served if you resigned?"–but he did respond to some others. A few exchanges follow.
____________________________
Question:
Dear Mr. Assange, through your efforts and that of Wikileaks as a whole, you have led to a new era of whistleblowing that has revealed the extent of America's malfeasance across the globe. We have also seen the United States (and others) attempt to break down the safeguards that enabled individuals to leak information to you and others. Do you think after Manning and Snowden that leaks of such magnitude are still possible?
Julian Assange:
Not only are leaks of this magnitude still possible, they are an inevitability. And there's more coming, not less. While Washington DC has tried to set general deterants, we've set general incentives. That's why we beat them at their own game and got Snowden to safety. So he could keep his voice and through his example of relative freedom act as general incentive.
____________________________
Question:
Julian, do you think you have anything—anything at all—in common with Eric Schmidt?
Julian Assange:
Plenty – I discuss it a lot in the book, e.g.: "Schmidt's dour appearance concealed a machinelike analyticity. His questions often skipped to the heart of the matter, betraying a powerful nonverbal structural intelligence. It was the same intellect that had abstracted software-engineering principles to scale Google into a megacorp, ensuring that the corporate infrastructure always met the rate of growth. This was a person who understood how to build and maintain systems: systems of information and systems of people. My world was new to him, but it was also a world of unfolding human processes, scale, and information flows."
____________________________
Question:
I feel you've done a great service to humanity for pulling the curtains back on corruption and lies. Do you have any ideas, or see any ways that the human race can change our ways to create a path towards more transparency, truthfulness, and doing what's right?
Julian Assange:
One thing you can do, which is quite simple, is treat companies like Google and Facebook as the corporations they are. Lots of people – especially on the left – are aware of the ways in which corporations are exploitative and harmful. But there is a disconnect when it comes to Silicon Valley. Lots of people refuse to buy Coca Cola, but they don't see any problem with having a Gmail account. I think that is changing lately, but we need a movement to divest from these corporations – which destroy privacy – and to build an alternative internet that isn't as actively harmful to human interests.
____________________________
Question:
There was a piece in Slate last year about Google, that I kept thinking about with respect to this book, about how Google's internal culture and goals are bound up in Star Trek. For example: Amit Singhal, the head of Google's search rankings team, told the South by Southwest Interactive Festival that "The destiny of [Google's search engine] is to become that Star Trek computer, and that's what we are building."
It makes sense to me in that there's a real Camelot-era liberal pro-statist ideal underlying Star Trek's vision of the future, and I'm curious what your sense was as to whether or not Eric Schmidt really buys into that. AND/OR I am curious to know how your idealized vision of the future differs from that Google Star Trek model.
Julian Assange:
I hadn't seen that piece. At a glance, it reminds me of the discovery that the NSA had had the bridge of the Enterprise recreated. In my experience it is more reliable and fairer to look at peoples interests and expenditure rather than try to diagnose their inner mental state, as the latter often lets people project their own biases. As I say in the book, I found Eric Schmidt to be, as you would expect, a very sharp operator. If you read The New Digital Age, the apolitical futurism of Star Trek seems to fit what Schmidt writes quite well. I also quite liked this summary of Google's vision for the future: "Google's vision of the future is pure atom-age 1960s Jetsons fantasy, bubble-dwelling spiritless sexists above a ruined earth."
____________________________
Question:
Russian FSB. You didn't release that information, and today, you and the Russians are downright chummy, with you reportedly assisting Edward Snowden in his "travels" there, in spite of Russia's considerable human rights and surveillance abuses. How do you square your relationship with Russia and your government transparency/anti-authoritarian goals?
Julian Assange:
This is the usual attempt to attack the messager because the message is indisputable. The approach would already be invalid at that level, but it is also strictly false. Many things you may perceive to be true about an individual or a nation are helpful rhetorical positions that spread around through one group or another like a virus. In the end the collection of these thought-viruses, or memes, reflects the psychological and political contours of the group in which it inhabits. We have published more than 600,000 documents relating to Russia. The US stranded him in Russia by cancelling his passport. The US State Department just keeps kicking own goals. It is not my fault, or Edward Snowden's fault that they're so incompetent.•
Tags: Julian Assange