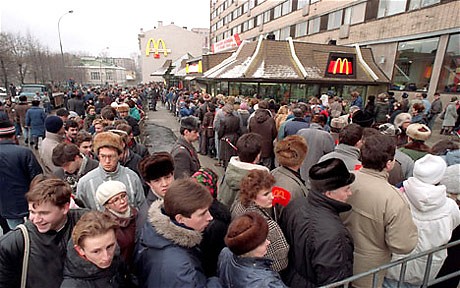 Russia's field war with Ukraine and financial one with the West has led to a symbolic skirmish between Vladimir Putin and American-born fast-food franchises. This counter-glasnost at the McDonald's counter will make the country a little healthier in one sense and much unhealthier in another. It's a move stuck in the twentieth century, as is much of Putin's leadership. From Masha Gessen at the New York Times:
"Last week, the Russian consumer authority announced that it would shut down several McDonald's restaurants in Moscow, including that famous flagship. The authority cited health-code violations, but it has long been known to wield its power almost exclusively to political ends: It banned wine imports from Georgia when relations with Russia soured, and dairy products from Belarus when the normally pliant neighbor edged westward. Since those first McDonald's closures in Moscow, the authorities have shut down the chain's restaurants in several other Russian cities. The other 420-plus McDonald's outlets in Russia may not be around much longer.
But with this, McDonald's has reclaimed its symbolic role in Russia. A quarter century ago, the opening of its first branch in Moscow symbolized that Russia was taking down barriers between itself and the Western world. It also symbolized the end of four decades of enmity between the U.S.S.R. and the U.S.A. (no matter if the company that initially ran the Moscow restaurant was based in Canada rather than the United States). The same process is now occurring in reverse.
The Russian government is shutting down a symbol, not a business. Back in 1999, as soon as NATO planes started bombing Serbia, protesters stormed the McDonald's in the center of Belgrade, breaking windows and looting the restaurant. The Russian state is following roughly the same logic today: Regardless of who owns it, McDonald's serves as a symbol of America and the West, against which President Vladimir Putin has declared war."
Tags: Masha Gessen, Vladimir Putin