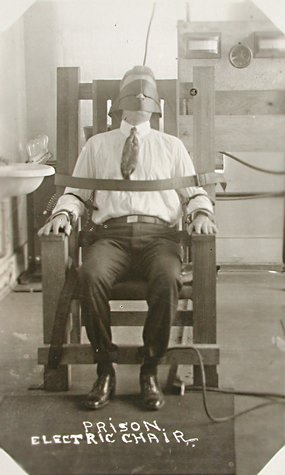 John W. Hulbert, New York State's executioner from 1913 to 1926, was responsible for ending 142 lives, if you count his own. A shadowy "electrician," he put the convicted to death on the hot seat, protected his privacy with great vigilance and hated his work. "I got tired of killing people," he reportedly said when retiring from the job, following a nervous breakdown. The haunted man took his own life three years later. Volts were not necessary as Hulbert fired shots into his chest and temple with the gun he steadfastly carried to thwart potential revenge plots hatched by the loved ones of those he had offered a chair. He always dodged these pursuers, real or imagined, but could not ultimately escape the demons within. From an article in the Feb 23, 1929 Brooklyn Daily Eagle:
"Auburn, N.Y.–The terse report of a coroner's physician today cleared the mystery surrounding the death of John W. Hulbert, 55, former state executioner and long known as Auburn's 'man of mystery.'
'Death by suicide' were the words Dr. William E. Walsh used to report the findings of an autopsy he conducted on Hulbert, after the retired executioner had been found dead in the cellar of his home here yesterday by his son, Clarence. The iron nerve which enabled Hulbert calmly to send 141 men to their deaths in the electric chair during his career as executioner, stayed with him to the last, the physician's report indicated. Two wounds were found in the body, one in the left chest, which, failing to bring instant death, was followed by another in the right temple.
Murder Theory Abandoned
The .38-caliber pistol which Hulbert used to end his life was found beside the body. It was identified as the gun he always carried during his career as executioner as protection against possible attacks from friends or relatives of his victims. The fact that Hulbert was alone in the home when he ended his life and that he always lived in fear of death from enemies incurred by the nature of his profession led officials to investigate the possibility of murder in his death. This theory was abandoned today with the report of Dr. Walsh.
Although he had bee a resident of Auburn since 1903, Hulbert was little known to the residents of this city.
He first worked as an electrician at Auburn Prison here and in 1913 succeeded John Davis, inventor of the electric chair, as State executioner. From that time on Hulbert lived a hermitlike existence in a self-imposed exile. In the same chair where the first man in the world was electrocuted, he executed the last, at Auburn Prison, Charles Sprague, of Yates County, after which all electrocutions were carried out at Sing Sing Prison.
Always in fear of unknown enemies, Hulbert avoided contact with the public as much as possible. His only diversion was to accompany his wife and family to local moving picture houses, and even then he sought to protect himself by sitting near an exit, where the seats around him were partially illuminated.
He resigned his office in January, 1926, and returned to the seclusion of his home. Last fall his wife died and since, according to his relatives and friends, he had been melancholy.
Feared Poison in Food
Sing Sing Prison attachés, speaking of the suicide of Hulvert, say he shunned everyone and was avoided in turn. He developed a reputation for being extremely economical, yet was known to give liberal tips to the waiter at the Palace Restaurant here, where he always ate when he came in for an execution. He always ordered precisely the same meal and always asked for the same waiter. This was attributed to the belief that he feared his food would be poisoned. 
Hulbert was never seen shaking hands with anyone."
Tags: Clarence Hulbert, Dr. William E. Walsh, John W. Hulbert