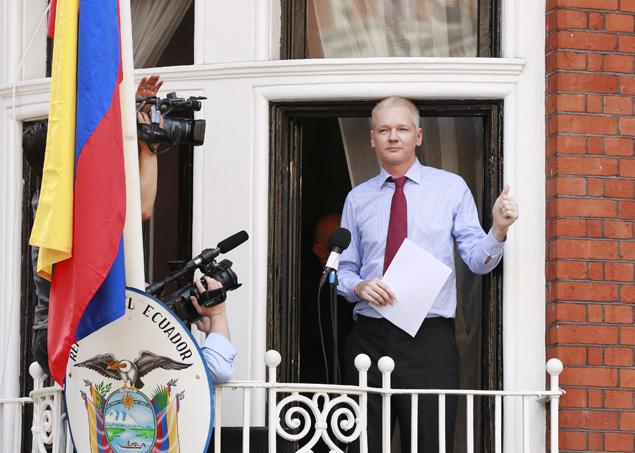 There's no corporation, including Google, that should be trusted with our private information. Of course, there's no way to avoid such a faustian bargain in this world of clouds. Everything is free, but it still costs a lot. There's the rub.
Later this year, Julian Assange is to release a book, When Google Met WikiLeaks, the description of which sounds bombastic, grandiose and borderline crazy, like Assange himself. But that's not to say it won't contain truth. Just because the messenger is deeply flawed doesn't mean the message is completely wrong. Sometimes, it's only the truly damaged person who'll step forward. From Alison Flood in the Guardian:
'Julian Assange is writing a 'major' new book, in which the Wikileaks founder details his vision for the "future of the internet' as well as his encounter in 2011 with Google chairman Eric Schmidt – a meeting which his publisher described as 'an historic dialogue' between 'the North and South poles of the internet.'
The book, When Google Met WikiLeaks, will be published in September this year, announced publisher OR Books this morning. It will recount how, in June 2011 when Assange was living under house arrest at Ellingham Hall in Norfolk, Schmidt and 'an entourage of US State Department alumni including a top former adviser to Hillary Clinton' visited for several hours and 'locked horns' with the Wikileaks founder.
'The two men debated the political problems faced by human society, and the technological solutions engendered by the global network – from the Arab Spring to Bitcoin. They outlined radically opposing perspectives: for Assange, the liberating power of the internet is based on its freedom and statelessness. For Schmidt, emancipation is at one with US foreign policy objectives and is driven by connecting non-western countries to American companies and markets. These differences embodied a tug-of-war over the internet's future that has only gathered force subsequently,' said OR Books in its announcement.
The title will include an edited transcript of the conversation between Schmidt and Assange, as well as new material written by Assange, who has been confined to the Ecuadorian embassy, in London, for the last 18 months."
Tags: Alison Flood, Eric Schmidt, Julian Assange