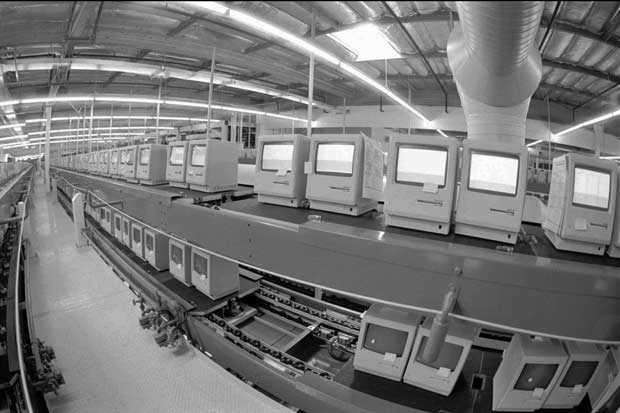 As absolutely everyone has mentioned, it's the 30th anniversary of the Apple Macintosh and the great "1984" ad that introduced it to the masses. The Mac, even if it wasn't a tremendous success in and of itself, changed everything by popularizing GUI, making text interfaces obsolete, and coming up with a design that aspired to update the modernist beauty of Olivetti.
Steven Levy, the best tech journalist of the personal-computing age, is releasing an unexpurgated version of an interview he did with Steve Jobs just as the Mac was about to drop. In that conversation, the Apple co-founder asserts that the invention of the light bulb influenced the course of history more than Marxism. I probably disagree with that, though a lot fewer people died by misuse of the light bulb. From Nick Bilton at the New York Times:
"There are some aspects of the 30-year-old interview that might answer some unanswerable questions about what Mr. Jobs would have done with his life if he were still alive today.
When Mr. Levy told Mr. Jobs that there was 'speculation' that he might go into politics, Mr. Jobs replied that he had no desire to enter the public sector and noted that the private sector could have a greater influence on society. 'I'm one of those people that think Thomas Edison and the light bulb changed the world more than Karl Marx ever did,' Mr. Jobs said.
One thing Mr. Levy was continually searching for in the interview, was what was driving Mr. Jobs — a question that was echoed in 2011 in Steve Jobs, the biography written by Walter Isaacson.
In the 1983 interview, it's clear that money isn't the answer. Mr. Jobs talked about his net worth falling by $250 million in six months. 'I've lost a quarter billion dollars! You know, that's very character building,' he said, and notes that at some point, counting your millions of dollars is 'just stupid.'
Mr. Levy pressed again. 'The question I was getting at is, what's driving you here?
'Well, it's like computers and society are out on a first date in this decade, and for some crazy reason we're just in the right place at the right time to make that romance blossom,' Mr. Jobs replied, noting that the 1980s were the beginning of the computing revolution. 'We can make them great, we can make a great product that people can easily use.'
Such passion is something that would follow Mr. Jobs through his career, and what he said next seemed to be the driving force behind that passion."
Tags: Nick Bilton, Steve Jobs, Steven Levy