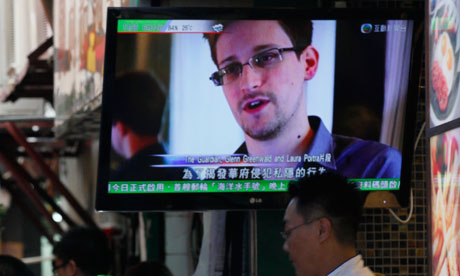 Edward Snowden didn't tell me anything I didn't know already and I doubt he surprised you, either. With our cameras and clouds, everyone is watching everyone and I don't think legislation will change that no matter how much idealistic people wish it would. But that doesn't mean Snowden did a horrible thing, either, that he's a villain just because he's not a hero. Someone who hates surveillance winding up in Russia has played a bad joke on himself, but his intentions seem to have been noble. Rather than trying to make him Public Enemy # 1, I wish we'd take a moment to have an honest discussion about how much privacy is truly possible in the world we've created for ourselves.
Glenn Greenwald and Janine Gibson of the Guardian US, which broke the Snowden story,  just did an Ask Me Anything at Reddit. Largely like-minded people showed up for it, so there's sadly mostly congratulation and little debate. But a few exchanges follow.
____________________________
Question:
Will there be any more groundbreaking leaks? Also, how do you feel about the response from the American people?
Glenn Greenwald:
There are definitely huge new stories to come: many more. I've said that from the start every time I was asked and I think people see by now that it's true. In fact, as Janine said the other day, the documents and newsworthy revelations are so massive that no one news organization can possibly process them all.
As for public opinion, I'm incredibly gratified that Americans, and people around the world, have been so engaged by these issues and that public opinion polls show radical shifts in how people perceive that threats to their privacy/civil liberties from their own government are greater than threats to their safety from The Terrorists.
____________________________
Question:
I just realized you've done a good job keeping your source out of the limelight, it feels like he's slowly fading from public consciousness and the real story is gaining traction.
Glenn Greenwald:
This is an astute point, and the credit for this is due to Snowden.
One of the most darkly hilarious things to watch is how government apologists and media servants are driven by total herd behavior: they all mindlessly adopt the same script and then just keep repeating it because they see others doing so and, like parrots, just mimic what they hear.
All whistleblowers are immediately demonized – they have to be "crazy" lest people think that there is something valid to their view that they saw injustices so fundamental that it was worth risking their liberty to expose. That's why Nixon wanted Daniel Ellsberg's psychoanalysis files: degrading the psyche of whistleblowers is vital to defending the status quo.
The script used to do this to Snowden was that he was a "fame-seeking narcissist." Hordes of people who had no idea what "narcissism" even means – and who did not know the first thing about Snowden – kept repeating this word over and over because that became the cliche used to demonize him.
The reason this was darkly hilarious is because there is almost no attack on him more patently invalid than this one. When he came to us, he said: "after I identify myself as the source and explain why I did this, I intend to disappear from media sight, because I know they will want to personalize the story about me, and I want the focus to remain on the substance of NSA disclosures."
He has been 100% true to his word. Almost every day for four months, I've had the biggest TV shows and most influential media stars calling and emailing me, begging to interview Snowden for TV. He has refused every request because he does not want the attention to be on him, but rather on the disclosures that he risked his liberty and even his life to bring to the world.
He could easily have been the most famous person in the world, on TV every day and night. But he chose not to, selflessly, so that he would not distract from the substance of the story.
How the people who spent months screaming "fame whore" and "narcissist" at him don't fall on the ground in shame is mystifying to me. Few smear campaigns have ever proven more baseless than this one.
____________________________
Question:
Why do you think the leak about forwarding data to Israel received relatively little attention compared to other leaks?
Glenn Greenwald:
1) Because it involved "Israel", which sends some people into fear-based silence; 2) Because it happened in the middle of Syria, which took up most oxygen; 3) Because the New York Times published nothing about it, for ignominious and self-serving reasons highlighted by its own public editor; and 4) Because there is some NSA fatigue: a sense that nothing that is revealed can surprise any longer.
The Times' excuse for those interested.
____________________________
Question: