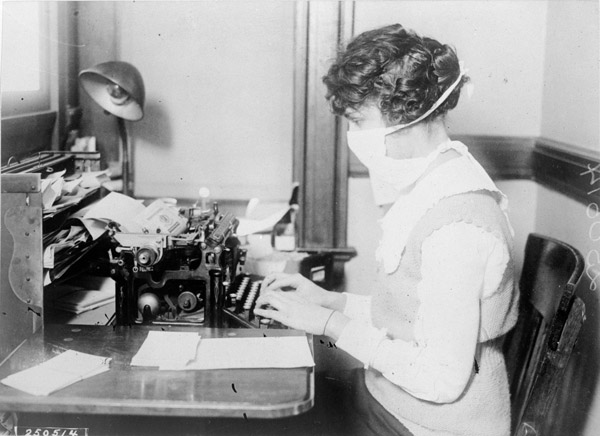 From October 17, 1899 New York Times:
"Cincinnati–To-morrow morning there will be buried from St. Xavier's Church, at solemn requiem high mass, the remains of Miss Mary Laughlin, aged eighteen, of 519 Torrence Road. Miss Laughlin died from blood poisoning and with terrible agony.
She was poisoned by the blue ink that is used on typewriter ribbons. A small, insignificant, and, almost imperceptible fever blister on her lip was the means by which the death-dealing substance was conveyed into her blood. The young lady, who was employed by the Amberg & Brill Ty Company, a little over a week ago noticed that a small fever blister had appeared on her lower lip.
She had been at work at her typewriter and her fingers were stained with the blue ink used on the ribbon. She had also been using a blue indelible pencil, and the stain from this was also on her fingers. In trying to break the blister Miss Laughlin placed the stained finger on it and in a short time she felt a sharp pain in her face. This was followed by a slight swelling.
Finally the pain became almost unbearable and her lip began to swell badly and turned black. Miss Laughlin sought medical aid, and everything that medical skill could do was done, but the poison permeated her system and her life was sapped away by the deadly stuff, her death seeming a merciful relief from the torture of the subtle poison. Her face was distorted and her skin almost as black as coal. The poisoned lip had swollen to gigantic proportions, and nothing could reduce it."
Tags: Miss Mary Laughlin