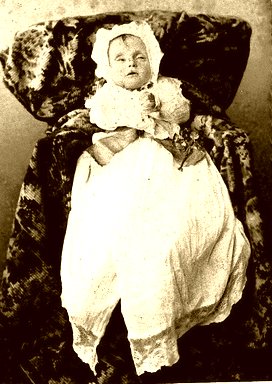 From the January 21, 1893 New York Times:
"Newark–Some shocking testimony was given here in the habeas corpus proceedings instituted by Mrs. Le Comte to recover possession of her child from her husband.
Mr. Le Comte said that the mother, while the child was teething, gave it a heavy dose of laudanum, and that once he found the child in a stupor at the table when he returned home for the evening, and learned from the servants that the little one had become intoxicated with beer. When he charged his wife with having administered it, she denied it, and a quarrel and a separation followed.
Alice Fisher, who had been a child's nurse in the family, testified that she had seen Mrs. Le Comte give the child beer–a small glassful–and that when Mrs. Reeves, Mrs. Le Comte's boon companion, asked Mrs. Le Comte to give the little one more beer to see how drunk she could make it, the request was complied with. The girl said that the child became intoxicated and trembled on the floor and rolled around in silly humor.
Mrs. Celia Smith testified that Mrs. Le Comte had once said to her that she was tempted to give the child enough drugs to stint the growth and make a museum freak of it.
After this testimony had been taken Mr. Le Comte consented to allow his wife to tale the child, in the hope of reconciling her."
Tags: Alice Fisher, Mr. Le Comte, Mrs. Celia Smith, Mrs. Le Comte, Mrs. Reeves