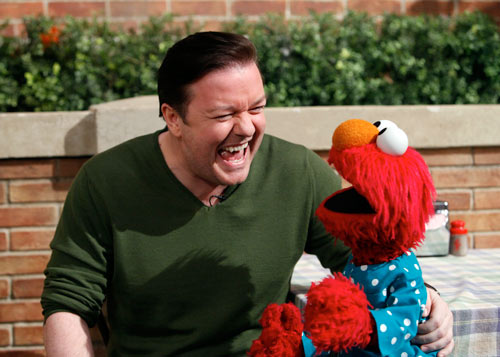 The trouble with trying to take down a subject during an interview is that you often expose yourself as well. Chris Heath of GQ obviously doesn't much like Ricky Gervais–or at least what he thinks the comic has become–but a particular line of questioning from his new interview is one of the more inane angles I've ever seen anyone take with a comedian. Let's see, if you're a stand-up, you shouldn't say anything offensive and you shouldn't trust your own judgement about what's funny, although magazine writers are allowed to judge what's an acceptable question. The excerpt:
"GQ:
You once went on a British chat show and when the host noted that you were looking newly fit and trim and asked how come, you replied, 'AIDS.'
Ricky Gervais: 
The joke there is that it was small talk. If that was the answer, I wouldn't have said it. But what's wrong with it? How would people be offended?
GQ:
Well, to joke about a disease that is killing loads of people…
Ricky Gervais: 
I do that all the time! I do it all the time. If you can't joke about the most horrendous things in the world, what's the point of jokes? What's the point in having humor? Humor is to get us over terrible things. That's all it's for. That's why you should laugh at funerals. Of course it's the wrong thing to say. That's why it's funny.
GQ:
You've said many times that your ultimate yardstick about whether something is all right to joke about is: 'Is it coming from a good or bad place?' Is it arrogant to think you can judge that?
Ricky Gervais: 
It's not that it's arrogant, it's just that I don't know of any other judge. Outside of popularity. And popularity and democracy aren't a judge, they're just stats."
Tags: Chris Heath, Ricky Gervais