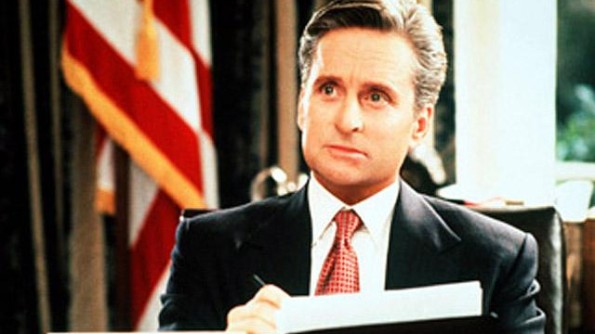 At the White House Correspondents' Dinner, President Obama's best joke was this one: "I know Republicans are still sorting out what happened in 2012, but one thing they all agree on is they need to do a better job reaching out to minorities. And look, call me self-centered, but I can think of one minority they could start with. (Laughter.) Hello? Think of me as a trial run, you know?"
But a close second was this: "Of course, everybody has got plenty of advice. Maureen Dowd said I could solve all my problems if I were just more like Michael Douglas in The American President. (Laughter.) And I know Michael is here tonight. Michael, what's your secret, man? (Laughter.) Could it be that you were an actor in an Aaron Sorkin liberal fantasy? (Laughter.) Might that have something to do with it?"
I know that well-to-do op-ed writers, tossing their precious bon mots, are generally as divorced from the reality of how most Americans live as Washington politicians are, but it amazes me how people who are Beltway insiders can think of politics as a fantasy world. From "Obama and the Myth of Arm Twisting," a New York Review of Books piece by Elizabeth Drew:
"The nonsense about what it takes for a president to win a victory in Congress has reached ridiculous dimensions. The fact that Barack Obama failed to win legislation to place further curbs on the purchase of guns—even after the horror of Newtown, Connecticut—has made people who ought to know better decide that he's not an "arm-twister." Ever since Obama took office, others have been certain about how he should handle the job and that he wasn't doing it right.
Yet if the health care law is allowed to work, despite continuing Republican efforts to try to make sure that it doesn't, and if we take into account some other victories—the Lilly Ledbetter Act, the stimulus that was as large as the political market would bear, the Dodd-Frank financial regulation bill, the largest since the New Deal if Congress will let it be implemented—his presidency could go down as a time of historic achievement.
Nevertheless, when an insufficient number of senators was available to kill a hypothetical filibuster of the gun bill—a watered-down measure to expand background checks for gun sales (while opening gaping loopholes)—suddenly the word went out that the president is hopeless as an arm-twister; the assumption of course was that being a good arm-twister was critical for a successful presidency.
Wait a minute.
Arm-twisting is a narrowly defined and seldom successful maneuver by which a president can supposedly work his will with the legislature. It assumes that an elected official will cry "uncle" and change his or her mind upon being visited with presidential blandishments and threats: If you vote this way I will see to it that you get that dam. Or the other way around. Or: If you don't vote for me on this I will make your life miserable for however long you are in office. That's the popular image.
The problem is that such threats are rarely successful and a president would be most unwise to try to adopt them as a method of governing."
Tags: Barack Obama, Elizabeth Drew, Maureen Dowd