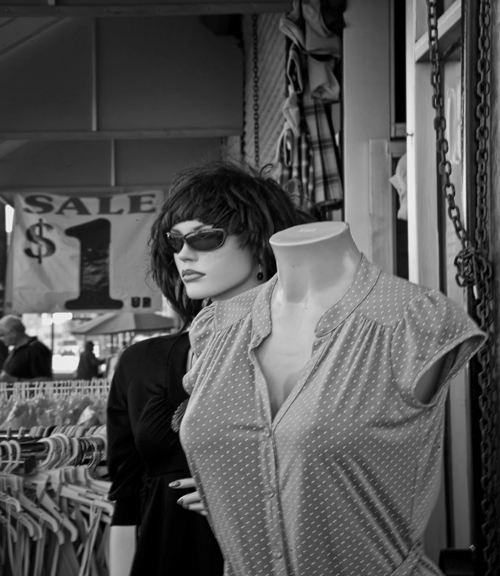 Big-box stores, with their savage price-cutting, created a monster they can no longer control: consumers who refuse to pay anything above deep discount. Armed with smartphones, they go to stores to sample items, reach for their iPhones and order the goods from Amazon for a smaller price. From a Megan McArdle Newsweek piece about the category-killers attempting to reinvent themselves on the fly, unlikely as that seems:
"To survive, stores like Best Buy will need to kill their own category, remaking themselves into what might be called 'small-box stores': more intimate, accessible, with a unique mix of products and expert personal service that the Internet simply can't provide. Other retailers have shown that it's still possible, even in this day and age, to get people to buy things in stores. But can the giants of yesteryear cut themselves down to scrappy, nimble competitors? Can Goliath transform himself into David before the money runs out?
To find out, I went to see the place where Best Buy is reinventing itself. Earlier this year, the firm announced that it would be closing 50 stores, while opening 100 smaller 'mobile' locations. It's also undertaking extensive renovations on remaining stores to refocus them around personal service—the one thing that Amazon can't deliver via UPS. 'With things like home appliances, people are going to want the things we offer, for example, the delivery to service and install. Or Geek Squad: thousands of people sitting in homes, doing installations, across all the platforms,' says Stephen Gillett, the digital wizard who helped lead a turnaround at Starbucks before joining Best Buy eight months ago. 'If you've got a Kindle, a Samsung television, an Android phone, good luck getting service for that at Amazon.'
The idea is that nicer-looking stores and better service will help combat 'showrooming'—the act of visiting a store to look at a videogame console or fancy television before you buy it, cheaper, on the Internet. The trend has been gathering steam for years, but over the past 18 months, smartphone apps like RedLaser and Amazon's Price Check have made it as easy as, er, stealing display space from a big box: just scan the item's bar code and the app shows you whether you can get it cheaper somewhere else.
Usually, you can." (Thanks Browser.)
Tags: Megan McArdle