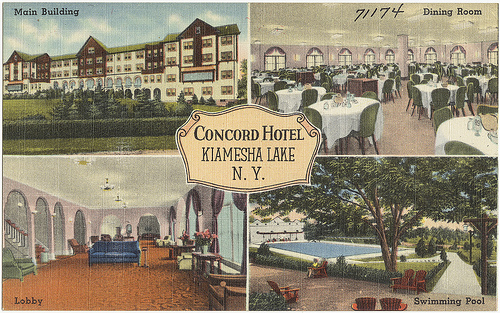 Catskills maître d'hôtel Irving Cohen was a matchless matchmaker, and Margalit Fox of the New York Times is a dynamite writer. So it's no surprise that the passing of the former turned into a great obituary in the care of the latter. An excerpt:
"By all accounts the borscht belt's longest-serving maître d'hôtel, Mr. Cohen worked at the Concord, in Kiamesha Lake, N.Y., from his early 20s until he was in his early 80s. He would have worked there longer, he said, had the hotel not closed in 1998.
Officially, Mr. Cohen presided over three meals a day in the vast kosher empire that was the Concord dining room, helping thousands of patrons navigate its towering shoals of gefilte fish, pot roast, potato pudding and a great deal else.
Unofficially (though only just), he was the matchmaker for a horde of hopefuls, who flocked to the Catskills ostensibly for shuffleboard and Sammy Davis Jr. but in actuality to eat, drink, marry and be fruitful and multiply, generally in that order.
Thanks to Mr. Cohen, many did. In the 1940s, he paired the Concord's original clientele. In the '60s, he paired their children. And in the '80s, he paired their children's children. It is no exaggeration, Bob Cohen said Tuesday, to say that thousands of marriages resulted from his father's sharp-eyed ministrations.
And thus, simply by doing his job — which combined Holmesian deductive skill with Postian etiquette and a touch of cryptographic cloak and dagger — Mr. Cohen single-handedly helped perpetuate a branch of American Jewry."
Tags: Irving Cohen, Margalit Fox