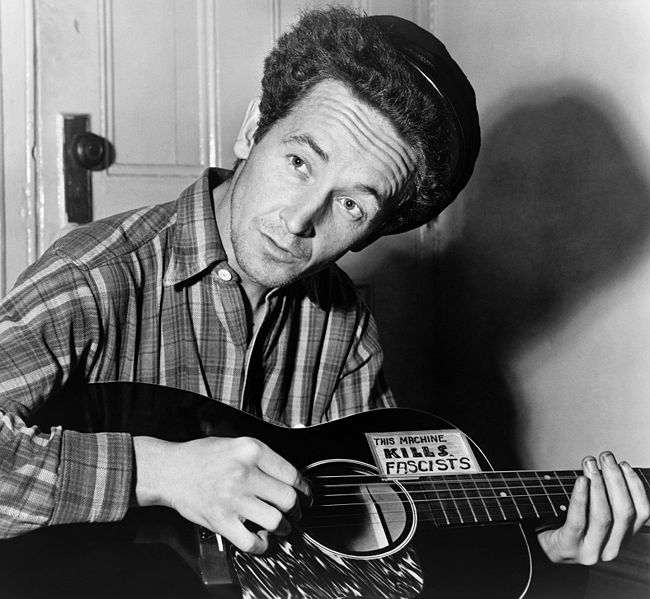 How cool is this? The New York Review of Books has pulled from its archives a 1981 essay by Murray Kempton about Woody Guthrie, who had a machine that attempted to kill fascists, though they're still there. Kempton's article is a review of several Guthrie books that were published just as a nostalgia salesman was moving into the White House, having promised a return to a past that never existed. People believed the narrative and began voting their unlikely dreams instead of their realities. The result was this land became less and less yours and mine. The opening of the great piece:
"The genius of our politics is the art of distracting the resentments of a cheated middle class and letting them fall upon a worse-cheated lower class. And so we have the revolution of Woody Guthrie's dream: the Okies and their sons and daughters have elected a one-time California labor agitator president of the United States. This triumphant populist tribune is, of course, Mr. Reagan.
Joe Klein reminds us that Guthrie's 'This Land Is Your Land' has been recorded by such repositories of the national self-satisfaction as the Mormon Tabernacle Choir, the New Christy Minstrels, and Tex Ritter. It is as secure in the pantheon of celebratory anthems as 'America the Beautiful' and probably sits higher in the affections of school children than 'The Star Spangled Banner.' Marching bands saluted the new president with its strains when they passed before him on Inauguration Day.
Woody Guthrie had composed 'This Land Is Your Land' as a bitter parody of 'God Bless America.' It had originally closed with the stanza:
One bright sunny morning in the shadow of the steeple
By the Relief office I saw my people
As they stood hungry, I stood there wondering if
God blessed America for me.
These words and like notes of alienation were excised from 'This Land Is Your Land' when it was smoothed into the affirmative expression that soothes us today. Guthrie accepted the amendment, but the pain of the sacrifice lingered so long that, in the early 1960s, when he was near dying, he took his son, Arlo, into the backyard and taught him the old verses, because, Klein tells us, 'he was afraid that if Arlo didn't learn them, they'd be forgotten.'
The genius of our politics also extends to the transformation of the song of protest into the hymn of acceptance."
•••••••••
"Yes, as through this world I've wandered / I've seen lots of funny men / Some will rob you with a six-gun / And some with a fountain pen":
Tags: Arlo Guthrie, Joe Klein, Murray Kempton, Woody Guthrie