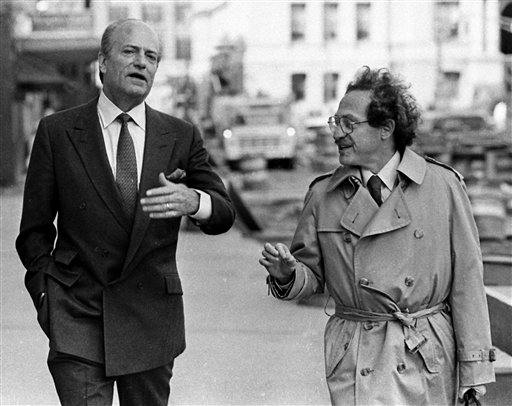 In 1985, Barbara Walters interviewed infamous society spouse Claus von Bülow, who married well though his wife did not.
One odd thing: Walters was made up like Tammy Faye Bakker. Did female reporters on TV in the '80s always wear such heavy make-up?


••••••••••
Shockingly, Vanity Fair squeezed in a story or two about the lurid case of heiress Sunny von Bülow. From Dominick Dunne's 1985 article, "Fatal Charm: The Social Web of Claus von Bülow": "From the beginning, the von Bülow proceedings, legal and otherwise, had had an air of unreality about them. His once beautiful wife was one of the country's richest heiresses. His stepchildren were a prince and princess. His daughter was a disinherited teenager. His former mistress was a socialite actress. His current lady friend was a thrice-married Hungarian adventuress who was not the countess she was often described as being. The maid who testified against him had once worked for the Krupps. And lurking darkly in the background was a publicity-mad con man bent on destroying him.
The apartment of Sunny von Bülow, even by Fifth Avenue standards, is very grand. Located in one of the most exclusive buildings in New York, its current market value is estimated by one of the city's top realtors at nearly $8 million. Although a sophisticated friend of von Bülow's complained that the forty-foot drawing room has 'far, far too many legs,' it should be pointed out that the legs are by Chippendale and of museum quality, as is nearly every object in the fourteen-room apartment looking down on Central Park.
According to the terms of Sunny von Bülow's will, the apartment will go to von Bülow when she dies. So will Clarendon Court, the fabulous mansion set on ten acres overlooking the sea in Newport, Rhode Island, where her two comas took place during successive Christmas holidays, in 1979 and 1980. So will $14 million of her $75 million fortune. In the meantime the maintenance on the apartment is paid for by Sunny's estate, so in effect von Bülow and his self-proclaimed mistress, Andrea Reynolds, have been largely supported by his comatose wife since his conviction in 1982 for her attempted murder. That verdict was overturned on appeal because certain materials had been withheld from the defense and others had been improperly admitted as evidence."
Tags: Andrea Reynolds, Barbara Walters, Claus von Bulow, Sunny von Bülow