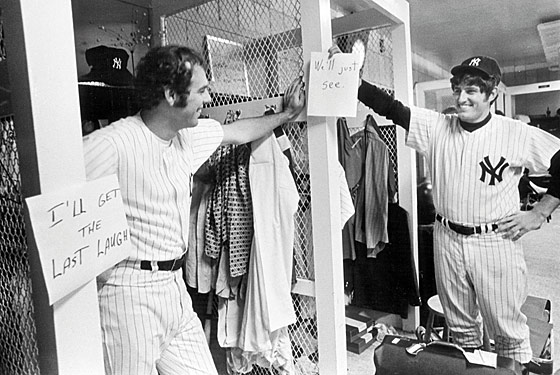 One of the strangest chapters in baseball history took place during the early '70s when Yankee pitchers Fritz Peterson and Mike Kekich swapped families–wives, children and dogs. The episode has been revisited recently because Ben Affleck and Matt Damon are trying to make a movie about the tabloid-ready trade. An excerpt from the March 5, 1973 Toledo Blade:
Teammates Fritz Peterson and Mike Kekich of the New York Yankees have "traded lives" through a mutual agreement that calls for the pitchers to exchange wives and families.

"It was not a wife swap," said Peterson, "but a life swap."

The situation developed last summer when the Petersons, Fritz and wife, Marilyn, and the Kekiches, Mike and his wife, Susanne, were drawn together and began discussing the possibility of an exchange.

'There have been laughs, screams and tears throughout this whole thing,' said Kekich.

Marilyn "Chip" Peterson and her two sons, Greg 5 1/2, and Eric, 2 1/2, changed places with Susan Kekich and her two daughters, Kristen, 6, and Reagan Leigh, 2 1/2. The arrangement apparently has worked for Peterson and Mrs. Kekich who are still together, but not for Kekich and Mrs. Peterson, who have separated.

In Rockford, Ill., Mrs. Arthur Monks, Marilyn Peterson's mother, said: "Marilyn is not happy about this at all. She has started proceedings for a divorce, but only because he (Fritz) wanted her to. Mike Kekich has made no plans for a divorce."

"Susanne was a perfect person for me," said Peterson. "We will file for divorce in New Jersey under the no fault clause."

"Pete and Susanne are great for each other," said Kekich.

"I thought Chip and I were perfectly suited but things developed and we began to butt heads. She would have been the first of her family to get a divorce. It became too much for her and she began to worry."

The two families switched places at the end of last season and then briefly returned to their original situations. After about 10 days they exchanged places again, this time permanently.

"The point of no return was reached December 14," said Peterson. "Marilyn and our boys flew West to join Mike in California and Susan and the girls flew East to me. They must have passed mid-air.

"This was the biggest decision of my life," he continued. "I'm not going back. I can't go back."

Peterson and Kekich have been Yankee teammates for four years and the two families have always been close.

When the exchange developed the two players advised the Yankees of the situation and General Manager Lee McPhail asked if they felt they could still function as teammates. They said they did and that satisfied the club.

"The players personal lives are their own," said Manager Ralph Houk.•
---
Willie McCovey hits a frozen rope against Peterson at the 1970 All-Star Game.
Tags: Fritz Peterson, Mike Kekich