I gleaned a bunch of theater books that a neighbor put out for the taking about a year ago on 5th Street in Park Slope. One of them was an old Grove Press paperback copy of Oh! Calcutta!, the famously nude musical that was a sensation on Broadway in '69 and has been revived to even more success since. The book, which has tons of photos of the original cast in various states of undress, cost $1.75 in 1969.
British drama critic Kenneth Tynan was responsible for "devising" the show. The sexy sketches were contributed by a diverse group, from Samuel Beckett to John Lennon to Edna O'Brien. The musical's frontal nudity caused controversy when it was first produced, and a 1971 closed-circuit broadcast was banned in some cities. But many people realized the show was basically innocent.
An excerpt from the book's back cover copy: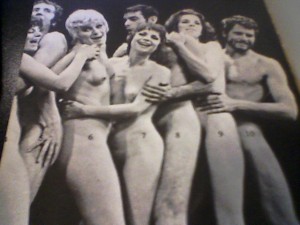 "'Some time ago,' said the British drama critic Kenneth Tynan in an article in the Village Voice, 'it occurred to me that there was no place for a civilized man to take a civilized woman to spend an evening of civilized erotic stimulation. At one end, there's burlesque, at the other, an expensive night club, but no place in between. We're trying to fill that gap with this show.'
In Oh! Calcutta! Mr Tynan has assembled a group of sketches which deal with almost every conceivable erotic fantasy and sexual reality that Western man has dreamt up or experienced. The distinguished roster of authors includes Samuel Beckett, Edna O'Brien, Jules Feiffer, Leonard Melfi, John Lennon, and, not to be outdone, Kenneth Tynan himself.
The title of this revue, which is taken from the title of a painting by the French surrealist painter Clovis Trouille, contains a phonetic French pun: 'Oh! Quelle _ _ _ t'as!' Or, freely translated: 'Oh! What a lovely _ _ _ you have!'"
Tags: Clovis Trouille, Edna O'Brien, John Lennon, Jules Feiffer, Kenneth Tynan, Leonard Melfi, Samuel Beckett