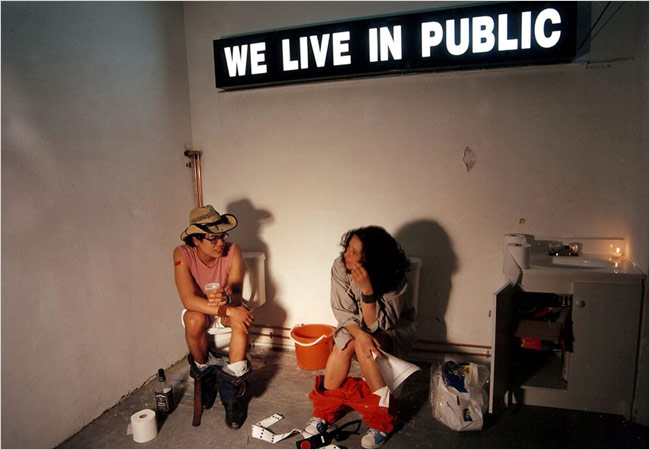 Documentarian Ondi Timoner is no stranger to volcanic egos, having chronicled a couple of feuding rock bands in her excellent 2004 doc, Dig! But even she couldn't have been completely prepared for the unrestrained and unstable hubris that was Web 1.0 entrepreneur Josh Harris, when she was asked to film his exhibitionistic Manhattan commune during the final month of December 1999. That project and others perpetrated by Harris are the subject of the fascinatingly repellent doc We Live in Public.
The poster child for the extreme excess of Silicon Alley in the late '90s, Harris was a misanthrope with a sadistic streak who cashed in a couple of early web businesses for the disposable income to hatch disturbing "art projects" that investigated his personal issues with voyeurism, exhibitionism and mind control.
The first one, called "Quiet: We Live in Public," housed 100 volunteers in a Manhattan bunker that was filled with free food, a firing range with a massive cache of weapons and ubiquitous surveillance cameras to capture every last instant of the participants' lives. People had sex, showered, went to the bathroom and sat for humiliating interrogations before the lenses. Harris was no Warhol but he created a Warholian police state, until the NYPD shut down an increasingly ugly scene.
Harris followed up this wacky project with other similar ones, until he had burned through tens of millions of dollars and disappeared himself from the public eye (and his creditors). Before his retreat, he foresaw the increasing invasiveness and exhibitionism of our media-drenched world: social networking web sites, the explosion of reality TV and the information-collecting of search engines.
But getting there first isn't necessarily a distinction worth having, since he behaved like a creep when he arrived. Surveillance can no doubt alter human behavior, but you have to believe Harris is no charmer even when no one's watching.•
Tags: Andy Warhol, Josh Harris, Ondi Timoner